Why reproduce the stressful rhythm of the daily life of employees when they work remotely?
Everyone can notice these days an extraordinary videoconference battle on social networks.
As if to work remotely you had above all to reproduce the catastrophic myth of the excessive meeting in which you need to show that you are actively active?
This happens to literally destroy the productivity of the company and to consume the time of dozens of collaborators who would certainly use it much better to carry out the tasks for which they were recruited and trained.
Should the opportunity given to us by the current situation to transform the lives of our employees be so dramatically wasted?
I do not believe that. I even believe that we should take advantage of this opportunity to give everyone even more freedom and autonomy, as there is no doubt that they will have collectively learned significant lessons from the difficult crisis we are going through.
This is why it is absolutely necessary to reduce the number and duration of these « conference meetings », which are not always useful or productive, and to equip our employees with tools adapted to the new situation that is coming our way.
These tools must allow them to have continuity of action, whether they are in their office, in their living room or even on the move at the end of the world.
So, what is the real need?
Answering a phone call: Yes! Phone calls to their office phone on their business line should not go unanswered, like a dead letter desperately addressed to you by your client or partner.
Communicate easily with their colleagues: At the office, you pass your head through your colleague's door or you discreetly ask him or her in the open space. Thus, you got the crucial information you need. But remotely, everyone at home, how to do without a good instant messaging tool or a direct phone call?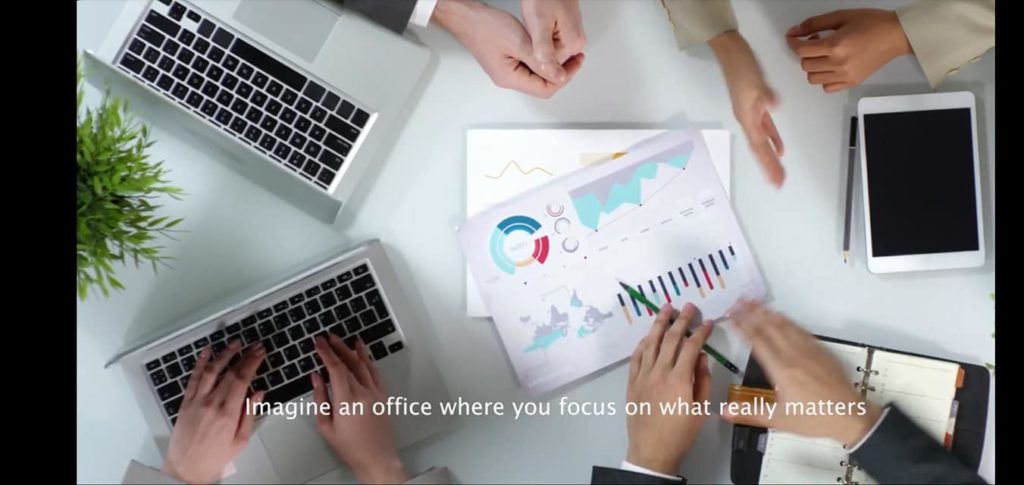 Sharing documents: You won't hear anymore « I send it to you by email » when it is so easy to post a document in a communication! And especially so easy to find it in the days that follow while the emails piled up by the hundreds, making the said document impossible to find. « Can you send me the STP email? » « ; « Yes, of course, which one? » « 
Seeing yourself from time to time: Yes, the right moment in the cafeteria, the quick exchange between two doors … disappeared with the distance, even if only a few decametres. A short video conversation, without having to set up a cumbersome and tedious videoconference, helps to maintain the links and preserve the humanity necessary to counterbalance the distance.
Team and Group Working: Of course! Employees are no longer production machines. Teams are heart and blood of success. The tool should therefore allow the creation of flexible groups that expand and relax as the team and the project need. Groups that will allow their members to chat together on video, on the phone, via instant messaging, to share and also to find working documents.
Equipped in this way, 4.0 companies will succeed in overcoming crises by ensuring optimal operation, on their premises and elsewhere, by reducing their communication costs, by saving the time of their employees, by giving them increased freedom, by empowering them without infantilize them by meetings that are as unproductive as they are massive and will limit individual autonomy.
They will become eco-responsible by releasing the creative energies of their employees, by giving them more autonomy on a daily basis, by reducing the stress linked to the constraints inherent in the tensions between their professional and personal lives, by freeing themselves from the force of localization and by drastically reducing the amount of daily "home-to-office" travel for their employees and managers: for the greater good of the planet and the community.
Chery on the cake, and not the least!
We have done this, and we continue today to operate at 100% productivity despite Covid19 crisis.
PATRICK BERGOUGNOU